9.11.04
I think Piombino is pointing at
one
of the next moves related to the building of a
meaningful
community of language workers:
"The question that must be asked now is: how can cultural mental illness be treated? How can an entire sector of the population be freed from a cult infected with paranoia?... If lecturing, exhorting, explaining, won't work, what will? How should a large, maybe a majority of the society be related with by a smaller part, which is in better health psychologically? This seems to me to be one the most important, yet complex and frustrating tasks facing the remaining members of society who still have (of course, in varying degrees, at various times) some ability and willingness to think for themselves"
Read here:
Fait Accompli
8.11.04
"In order to rationalize our industrial-military complex, we have to destroy our capacity to see clearly any more what is in front of, and to imagine what is beyond our noses"
R. D. Laing, The Politics of Experience
*
1. The news today is that American forces conduct surveillance activities on oil installations in Mexico. This was completely unheard. It seems these operations inside are part of the 2002 NorthCom (secret) agreements.
2. Wal-Mart is now installed inside the Teotihuacan ceremonial center, where some archeological findings have been happening even during the desecration was taking place. Some confrontations between students and activists and authorities have been happening. The Mexican president hasn't respond to the protest against the transnational. Teotihuacan is Mexico's main prehispanic set of monuments and most importantly our main sacred land.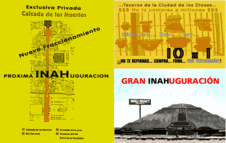 3.11.04

To my American friends:
We have reached the Bush degree. This is actually good news. The United States has reached its lowest point. A majority of the American society validates the atrocities of the Bush regime. Not only outside the U.S. but equally inside. As you know, civil liberties are going to diminish. It is not impossible the U.S. can become a totalitarian State or a society-government completely run by corporations, a society that thinks that «democracy» means participating every four years in a bipartisan poll. Remember the end of Orwell's 1984. It seems the United Status loves Big Brother. But this is the biggest opportunity the United Status has ever had. After approving Bush, only a revolution in action and thought can follow.